I couldn't be happier about my new business name.
---
People have been asking, "How did I pick the name?"
---
It reminds me of when we named our boys. I remember sitting in Barnes and Noble flipping through baby name books, closing them, and thinking I just looked through 10,000 names and not one of them is it! I waited a long time for it to come to me.
It's hard naming babies. You wonder if it's going to represent your little one. Will it have a nice ring to it? Will they be made fun of? Does that even matter if you love the name? So much goes into naming something and renaming my business was no different.
When the name Gaia came to me over 10 years ago, it resonated and I could feel it deep into my bones. I remember exactly where I was when the name came to me. I was sitting around my grandmother's old kitchen table that we then had in our kitchen. It was originally Gaia Rising. At that time in my life, it shook me to my core. We all have qualities of Mother Earth in us, the qualities we wish to embrace and embody. We just have to uncover them and let them rise. Motherhood is one of the first times in our culture we start to dig deep. The name was perfect.
Eventually, we changed the name to Gaia Birth and Bodywork. It sounded more professional and ended some of the inappropriate phone calls we would get from time to time.
But for a few years now, I've been wanting to shift the name. A lot of women think they have to be pregnant to come.
---
Pregnancy and Postpartum are my specialties, but I want to serve all women before and after they have their babies too.
---
I started to see the importance of women taking care of each other and themselves throughout their whole journey.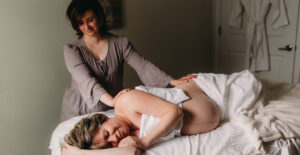 As a woman, I see others neglecting their self-care and self-love just as I do. I especially see it in mothers. We run around on fumes and try to show up for everyone else with an empty cup in hand. We can't pour from empty cups. I believe very much in the power and strength and love of humankind, and I think womankind really needs to take care of herself so she can serve others and live a happy life. I mean, who are we kidding…
---
Women make the world go round!
---
One day, a couple of years ago, I was headed to a state park to speak about the Arvigo Techniques of Maya Abdominal Therapy® and really focusing on uterine health. Since my husband is a park ranger, we made some jokes with each other and another ranger about MY kind of state park programming. I wasn't going to be talking about owls or historical sites. I was going to talking all about the uterus and menstrual cycles. Our friend proceeded to tell us about a family member of his decades ago who had a radio show that talked about "woman things." He said it was called Womankind. And that was it! From years of me trying to piece the perfect name together, in that moment, I could feel it in my bones again. It shook me to my core. The name Womankind Massage and Wellness was born, and I couldn't be happier to see it grow.